You no longer need to own a fax machine to send or receive your faxes. Instead, you can get a virtual fax number and start managing your fax documents with your phone. To use this technology, you need an online fax service that can manage your faxes without any fax number.
In this guide, we will use CocoFax to receive and send a fax from your phone. 
So, let's start and know a few things about online fax solutions before we share the guide with you.
CocoFax- Easy Way to Send & Receive a Fax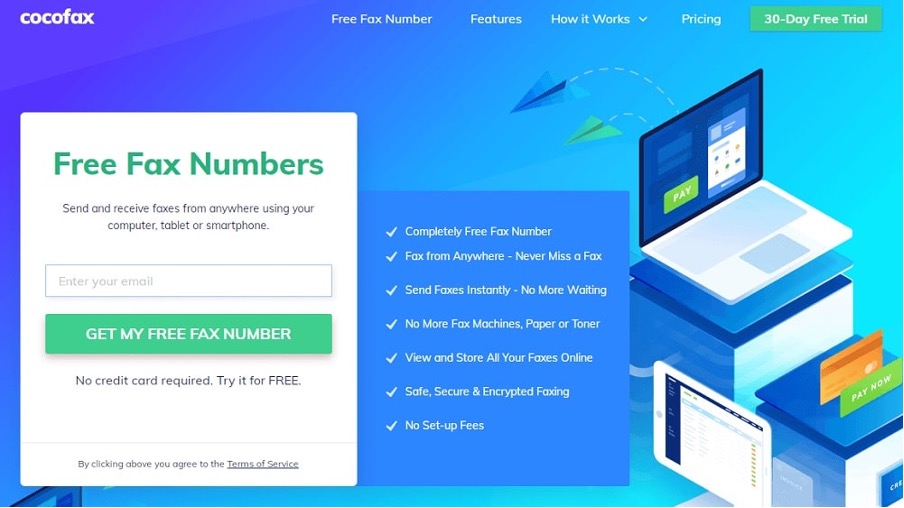 CocoFax is an online platform that provides the technology to manage your faxes without a fax machine. This solution can send a fax document faster than a machine. Additionally, it is not limited to a place as you can use any device to send or receive a fax.
CocoFax is a registration-based platform where you can create an account to get a free fax number. You can use CocoFax's website to send & receive fax documents using the fax number.
Tip: Visit its website to learn more about the working of this solution.
Easy Guide to Use CocoFax to Send and Receive Faxes Online
Even if you have no prior experience of using online fax services, these easy steps will help you out:
Step1: Create an Account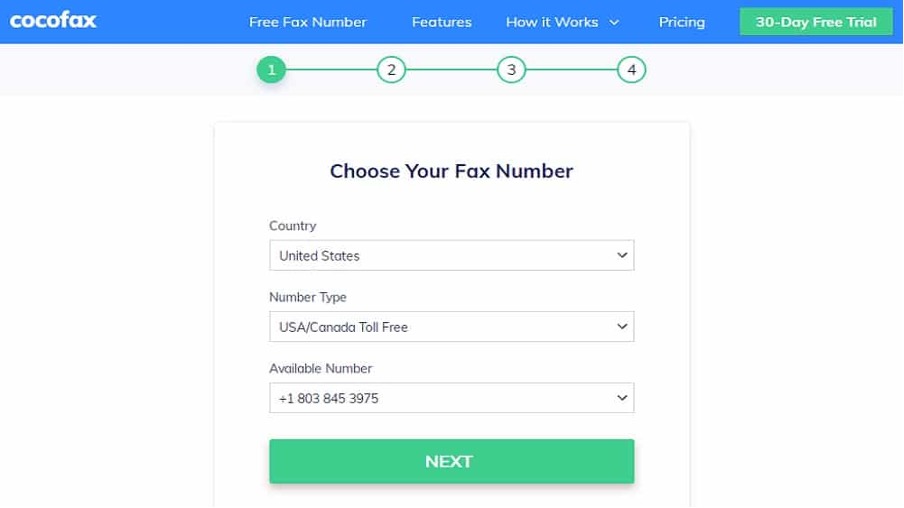 The first step involves creating an account on the website. It is important because you need a fax number to manage your faxes. It will ask you to select your country, number type, first name, last name, and fax number.
You can refer to the above image to understand how to fill in the details.
Enter the details and create your account. You can log in through your Google account as well. It will save you the trouble of going through the next step.
Step2: Connect your Gmail
For online fax services, you need an email service where you can receive your documents. Thus, you can connect your CocoFax account with your Gmail account. All you need to do is enter the email address and verify it from the link received in your inbox.
Step3: Send or Receive a Fax Document
You are all set to start sending and receiving faxes from your mobile. However, both the process includes different steps and we will cover them separately.
3.1- Sending a Fax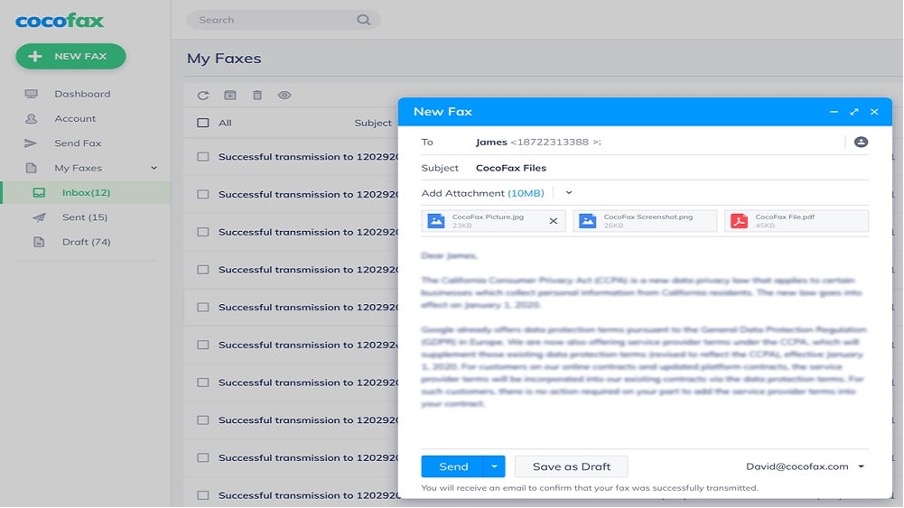 To send a fax from your CocoFax account, you need to:
Click on Send Fax button from the dashboard of your account
Upload the File or Type the fax
Enter the fax number of the recipient
Click on Send popup and wait for the delivery reports
Tip: You can install its extension and send a fax document from any page of your web browser.
3.2 Receiving a Fax
There's nothing much you need to do to receive your faxes on your mobile phone. Just like a fax machine, your CocoFax account will send a notification whenever you receive a fax.
You can check the fax by logging in to your account or from the email received on your Gmail account. The fax comes in a PDF file that can be accessed from any device.
Tip: Share your virtual fax number with all your contacts so that they can send you faxes online.
How Online Fax Services Work?
Like a physical fax machine, an online fax service can help you share your documents with anyone. This process is more convenient as you do not need to be around your fax machine to send or receive your faxes. It works like email services and the whole process is online.
The main difference between an email service and an online fax service is its cross-platform compatibility. It means that you can send a fax from an online fax service to a physical fax machine. Similarly, you can receive fax documents on your mobile when someone sends them through their fax machine.
That is why online fax services are more convenient and secure than email services.
Why Choose CocoFax?
CocoFax is known for its security and compliance to protect the user's data. Hence, you don't need to worry about the confidentiality of your data while using its services. CocoFax is GDPR (General Data Protection Regulation) compliant and uses encrypted servers to protect user data.
Also, it has many advanced features that will help you replace your fax machine with your mobile phone. Some of them include:
Email to Fax- CocoFax can help you send a fax from your Google account. It eliminates the need for a fax machine and provides a complete faxing solution whenever you need it.
Delivery Reports- You can choose to receive delivery reports of all your faxes. It will help you know when the person receives your fax.
Cloud Storage- Enjoy its free cloud storage that lets you store files for quick sharing.
Encrypted Faxing- The complete process of sending or receiving a fax is encrypted. Thus, you can enjoy a secure faxing experience with this platform.
Mobile Compatibility- CocoFax is a web-based faxing solution. However, you can download its mobile application to use it conveniently.
Gmail Integration- You can integrate its add-on to upload any file from your Gmail account. It helps you avoid logging in to your CocoFax account to fax someone.
Conclusion
Online faxing is the trend now. You can easily send and receive faxes on your phone through an online fax service. There are hundreds of services to choose from.
It depends on your needs and requirements to choose the right one. In the above guide, we used CocoFax as an example because it is the most popular faxing solution. Thus, you can consider this platform or choose any other, according to your convenience.
The main thing to consider is the Gmail integration of your fax service. Also, look out for mobile applications to access the solution immediately.