As we reach the midpoint of 2023, WordPress is gearing up to unveil its latest version, WordPress 6.3, packed with a multitude of features and improvements. Staying true to its planned release cycle, the alpha version is just around the corner and is scheduled for launch on August 8th, 2023!
Currently in its RC1 (Release Candidate 1) phase, this upcoming WordPress release not only aims to achieve major milestones from the WordPress roadmap but also marks the completion of Phase 2 of the Gutenberg project. We've delved into the newly released beta versions to discover the forthcoming updates and enhancements that will elevate web building for all WordPress users, including newcomers and webmasters!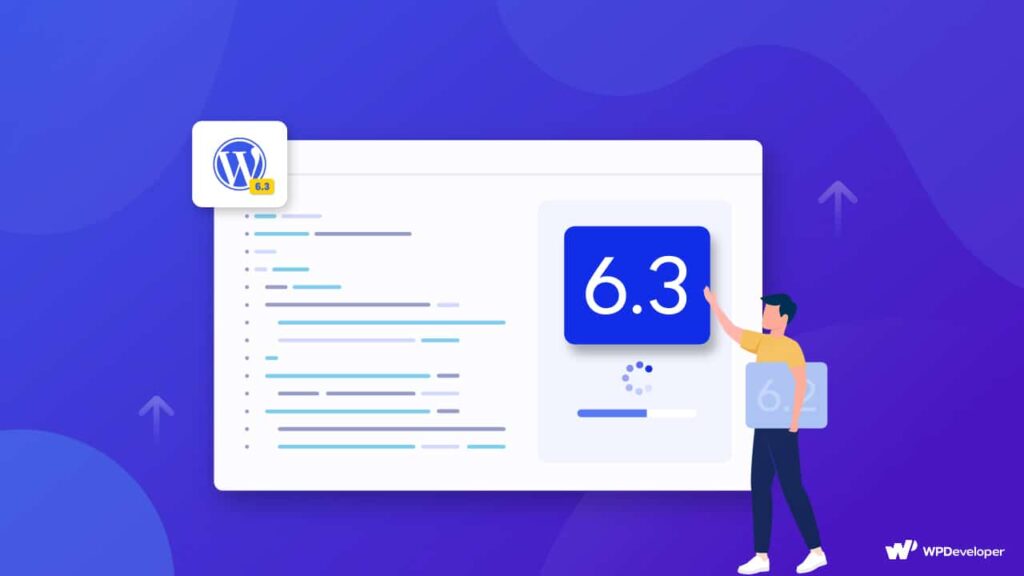 WordPress 6.3 Release: Highlights and Expectations With WordPress 6.2 released at the end of March and WordPress 6.3 already in RC1 stage, 2023 has been a bustling year for the dedicated volunteer developers and testers working towards enhancing WordPress. Thanks to their collective efforts, the platform is set to make significant progress in terms of features and functionality.
This upcoming WordPress 6.3 release boasts more than 500 new features and improvements, along with over 400 bug fixes. Building on the performance improvements introduced in WordPress 6.2, the latest version focuses on 170 additional enhancements for better speed and efficiency.
Furthermore, WordPress 6.3 is dedicated to enhancing Accessibility needs, incorporating about 50 accessibility-related improvements. This ensures that WordPress remains user-friendly and inclusive, enabling all individuals to enjoy seamless website development.
Improvements to the Core Site Editor in WordPress 6.3 Building upon the advancements made in WordPress 6.2, the Site Editor in WordPress 6.3 receives further expansions to enhance the editing experience and navigation.
The Site Editor's navigator has undergone significant improvements, allowing users to easily edit individual styles, pages, templates, patterns, and navigation elements. Notably, the 'Template Parts' option has been moved under the 'Patterns' tab, offering better organization and accessibility to saved patterns.
A notable addition is the ability to open sites in new tabs with a single click, providing a distraction-free editing experience and faster loading speed.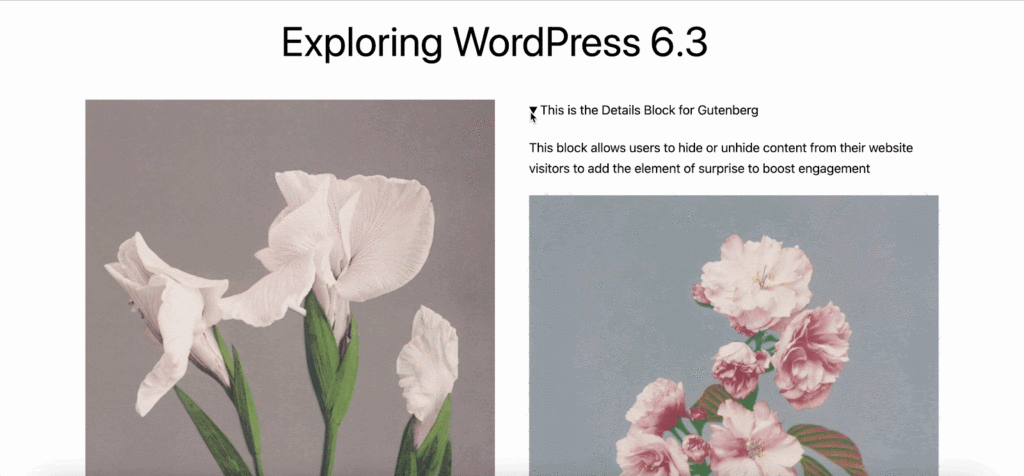 Moreover, WordPress 6.3 introduces an all-new Command Palette, accessible by clicking the search icon or using keyboard shortcuts. This feature streamlines operations across various sections, eliminating the need to switch between tabs in the navigator.
New Ways to Manage Reusable Gutenberg Blocks: Synced & Standard Patterns WordPress 6.3 introduces an intuitive method of managing patterns within the site editor. Reusable Blocks have been renamed to Synced Patterns, as the Editor now unifies Standard block patterns (unsynced) and Reusable block patterns (synced). This change simplifies pattern management, allowing users to effortlessly create, save, and manage unique synced and unsynced patterns.
Introduction to New Gutenberg Blocks: Details & Footnote Gutenberg introduces two new blocks in WordPress 6.3. The experimental 'Details' block enables users to hide or reveal content, adding an element of surprise to boost user engagement.
The 'Footnote' block is another addition that streamlines the process of adding footnotes to websites without the need for third-party plugins.
Added Features & Functionalities to Gutenberg Blocks WordPress 6.3 enhances various Gutenberg blocks to provide a more versatile web-building experience. The Spacer Block now offers new presets for better control over margins and padding, allowing for flexible spacing between blocks.
Additionally, users can now modify image aspect ratios in the Image blocks, ensuring a consistent and improved user experience.
The Cover block receives support and updates for text colors design tools and layout, enabling users and theme authors to personalize their WordPress websites more effectively.
Round Out of Other High-Quality Usability Updates in WordPress 6.3 Beyond the highlighted features, WordPress 6.3 includes numerous other usability improvements. The block editor's Link Control Tool now allows users to create new pages instantly with the 'Create Page' button. The option to open links in new tabs will now be available within the 'Advanced' settings when editing a link.
The Social Icon Blocks gain 'Icon color' and 'Icon background color' settings that dynamically update based on theme.json and Global Styles, providing greater design flexibility.
Additionally, WordPress 6.3 introduces the Rollback Feature, which ensures that in the event of a plugin or theme update failure, the previous version will be automatically restored, keeping the website operational and dependable for users.
All in all, WordPress 6.3 promises to be a substantial and exciting update that will elevate the web-building experience for WordPress enthusiasts across the globe!